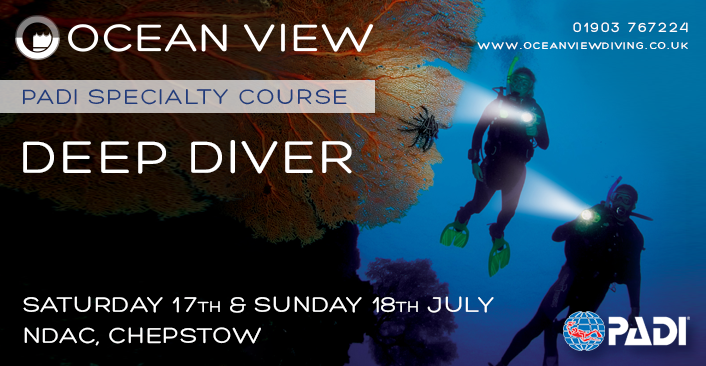 PADI Deep Diver July 2021
All courses currently being advertised are subject to us being open as per the 
restriction easing update announced on 22nd 
February.
All going well, we will be running the PADI Deep Diver course on Saturday 17th and Sunday 18th July.
Dive with confidence at depths to 40m, by taking the PADI Deep Diver Specialty course. Learn to assess reasons for going deep, the dive objective should be clear.
You will need to do a small amount of home study before the course, this is all now done with the digital PADI home study eLearning material. You don't need to come to the shop to get the course arranged and access your digital home study, this part of the course can all be arranged via email, we can do all of this whilst the shop is still closed to the public as per current regulations, the course can be paid for via BACS, we will then send you the code for your home study, with instructions how to do this.
The water temperature in July is usually around 6-7 degrees at 40m, for thermal protection, we recommend that you are comfortable in a drysuit for this course, we will be running the Drysuit course in May/June and early July.
If you want to take both the Deep and the Wreck course, we will need to go up to Stoney Cove early on the Friday to dive for three days to complete all of the necessary dives.
At the moment, the dive site is requiring booking for entry into the site, we will need to do this ahead of time, book early so that we don't miss out.