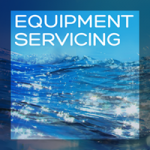 Ocean View Diving Services offers first-class servicing, maintenance and repair
All Dive Equipment servicing is carried out on-site in our service centre in Lancing, where every stage of servicing is carried out by experienced, qualified technicians with craftsmanship and quality guaranteed 100%
Equipment Servicing
We service all major brands of equipment. Onsite servicing is carried out for Regulators, BCDs, Drysuit repairs, and various other small items. If you have a cylinder in for test with us, we will always let you use one of ours at no cost if you require it. We offer cylinder servicing at our sister-company, in Fareham. We offer impartial advice on all scuba diving equipment and peripherals. If an item needs to be sent off to a manufacturer, we will always inform you before hand.
Regulator servicing
SCUBA diving regulators are integral pieces of Life Support Equipment and should be serviced regularly.
Some regulator manufactures advise this period to be every year or every 50 dives. Some manufacturers advise every 100 dives or every 2 years. All of the regulators that we personally dive with are serviced at least once a year or sooner if we have had a good diving season.
When a regulator is serviced it is stripped to the bare bones. Every removable part is broken down and either set aside to be replaced or cleaned prior to re-assembly. The regulator is then rebuilt using only manufacturers service kits or replacement parts. O-rings are removed from hose ends and replaced with new once the hose ends have also been cleaned. Regulator servicing is a very thorough process. Once the regulators have been re-assembled they are tested both in and out of water to ensure that they come back to you ready to dive.
We offer the following services for regulators:
1st stage only
2nd stage only
1st and 2nd stages
1st, 2nd and Octos
1st stages Oxygen cleaned
We are an approved service centre for the following manufacturers with our technicians attending specific manufacturers training course to ensure that we are fully up-to-date with all of the latest practices and techniques for servicing their regulators:
AP Diving, Apeks, Aqualung, Atomic, Beaver, Beuchat, Cressi-Sub, Dive-Rite Halcyon, Mares, Oceanic, Poseidon, Scubapro, Seac, Sherwood, Tigulio and Tusa.
If you have a regulator that is not on this list, please give us a call and we can advise whether or not it can be serviced, either by us or else-where.
Drysuit Repair
Your Drysuit is another integral part of your Life Support Equipment and should be treated with care and serviced regularly.
Whether it be a new cuff or neck seal or a valve service we can help out with all of your Drysuit needs.
Whether this be a diving Drysuit or a surface Drysuit, we are here to help.
We can replace your neck and cuff seals whether that be latex or neoprene and we can also replace the zip should this need to be carried out. One thing that is very often over-looked by divers is ensuring that the inflator and dump vales are serviced and ready to do the job they were designed to do.
Drysuit Services offered are:
Pressure testing for leaks
Patching and leak repairs
Re-gluing tapes and seams
Replacement neck seals
Replacement cuff seals
Replacement zips
Replacement boots and socks
Fitting of inflator vales
Fitting of dump valves, both cuff and auto shoulder dumps
Servicing of all valves
Fitting P-valves
If you have a problem with your Drysuit or are not sure about something to do with your Drysuit, please give us a call.
Computer Servicing
The next vitally important piece of your Life Support Equipment is your diving computer or dive watch.
Our trained service technicians can carry out both dive watch and dive computer battery changes and pressure testing, ensuring that it looks after you the way that you want it to.
If you have a dive watch or dive computer that we cannot carry out works on, we will be able to send it away to the relevant manufacturer to sort any issues out.
Pressure testing
Battery replacement
Strap replacement
Servicing
Please call us for advice, this is free and we will endeavour to help you with all of your dive watch or dive computer needs.
BCD Servicing
Is your BCD (Buoyancy Control Device) an important piece of Life Support Equipment?
It is in our eyes as it is with all manufacturers eyes. It is the item that will keep you afloat at the surface should any mishaps occur. The most important features that you should consider with your jacket are the inflator and the dump valves. Do they work, do they do the job that they were designed to do?
A BCD service involves stripping all of the inflator and dump valves from the jacket. Any replaceable parts (o-rings or filters etc) that should be replaced are set aside. All of the valves and the inflator are then cleaned of salt and other debris that may prevent them from working. The inside of the bladder is then cleaned with an anti-bacterial liquid that will ensure that the jacket is not full of germs. After the jacket has been completely re-assembled it will then be fully inflated to confirm that it holds air as it was designed to do.
Cylinder Testing via our Sister Company
Southern Cylinder Services are I.D.E.S.T accredited centre no 2B.
Every high pressure cylinder over 1 litre in size needs some kind of periodic test. If it is a cylinder for S.C.U.B.A use, this test is every 2.5 years. This test will be either a hydrostatic test or a visual inspection (depending on when the last test was carried out and what type of test it had). If it is a dedicated surface cylinder (i.e. it CANNOT go under water) this period is every 5 years and it will always be a hydrostatic test. If the cylinders are static (as per large bank cylinders), this test is every 10 years and once again will need be a hydrostatic test.
We can test all types of high pressure cylinders both for surface use and underwater use.
The types of cylinders that we can test are:
Steel
Aluminium
Composite
Large bank type cylinders
We can carry out all procedures regarding cylinder testing such as:
5 Year Hydrostatic Test
2.5 year intermediate visual inspection
Non-destructive Visual Plus Test (for older aluminium cylinder)
Oxygen cleaning (For 100% Oxygen fills or Enriched air)
Internal and external shot blasting
Re-painting
Twinset assembly
If you are not sure about the type of test that your cylinder requires, please give us a call, that is why we are here and always happy to give advice and help, after all, that is why we are here.