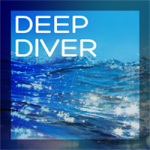 PADI Deep Diver
After your first few scuba dives, you soon want to explore a bit deeper. There's something exciting and mysterious about the depth that attracts divers
Discover historical wrecks, experience the thrill of drifting past a beautiful reef wall, and explore deeper dive sites.
Dive with confidence at depths to 40m, by taking the PADI Deep Diver Specialty course. Learn to assess reasons for going deep, the dive objective should be clear.
The philosophy of this course is to focus on making smart decisions for a stress free, deep diving experience with an emphasis on safety, and the importance of knowing your personal limits.
During your dives you will learn about:
Specialized deep diving equipment
Deep dive planning, buddy contact procedures and buoyancy control
Managing your gas supply, dealing with gas narcosis and safety considerations
COURSE PRICE & DURATION: £295 / 2 day course

PREREQUISITES: 15 years old; PADI Adventure Diver

COURSE CONTENTS: Home Study; Knowledge Development; Open water dives

EQUIPMENT REQUIRED: Mask and Snorkel; Dive computer; Dive light; Underwater Slate

RECOMMENDED TEXTS: Encyclopedia of Recreational Diving

REQUIRED FORMS AND FURTHER INFORMATION: Click Here