Learn to scuba dive
Here at Ocean View we train divers using the PADI system, the world's largest diver training organisation.
Learn to scuba dive at West Sussex's premier Dive Centre! Your PADI qualification will be recognised worldwide, more people have learnt to dive with the PADI System of diver education than any other.
The PADI system utilises modern instructional methods and materials. Students learn quickly at their own pace and effectively. With our highly qualified, friendly Instructors you are taught all the essential skills to get the most enjoyment out of your diving adventures and from our scuba diving courses.
Our beginners are of utmost importance to us. Your first impressions and memories of the underwater world will be lasting ones… we want them to be fantastic! To get you started you are welcome to come and do a Discover Scuba Diving session in our warm private pool in Lancing.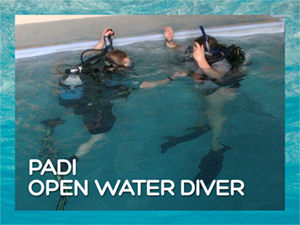 Once you have decided you want to start your diving qualification, your first step into Scuba Diving will be to become a PADI Open Water Diver. This qualification will enable you to dive around the world with a buddy (friend/partner) of the same or higher standard, to a maximum recommended depth of 18 metres.
We keep classes small to ensure optimum learning, individual attention and most importantly, maximum safety. Our courses will teach you all the essential skills needed to scuba dive. You will become familiar with the equipment and understand what happens to your body underwater. Our courses have great emphasis on safety, not only for yourself but also your diving buddy.
---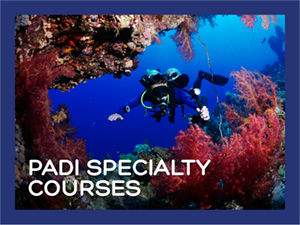 Beyond this we can take you to new levels of adventure by improving your skills to become an Advanced Open Water Diver, with many specialities to choose from such as Deep Diver, Wreck Diver or Underwater Photographer. Further we can help you learn to have the skills to help others by becoming a Rescue Diver, and beyond as a Self-Reliant Diver.
Ultimately you can also decide to Go Pro, by becoming a PADI Divemaster and Instructor, learning to teach others the skills and techniques they need to safely enjoy the underwater world.
Ocean View also uses the PADI TecRec training system, for those that wish to have adventures beyond the recreational limits. This enables you to increase your skills and awareness for more challenging diving.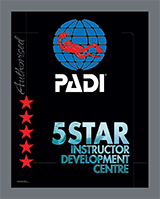 Through providing these services and maintaining high standards for training, customer service and safety, Ocean View has earned the prestigious title of PADI 5* Instructor Development Centre.
We hope that you'll join us today to discover where scuba diving can take you.