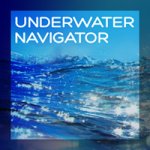 PADI Underwater Navigator Diver
Finding your way to that beautiful reef could be a breeze, the PADI Underwater Navigator course shows you how.
Be the diver everyone wants to follow and make your sense of direction legendary with the PADI Underwater Navigator Specialty course.
It can be quite stressful in poor visibility underwater, improve your observation skills and learn more accurately how to use your compass underwater to find your way.
You will develop the techniques involved in navigating underwater within recreational limits while avoiding disturbing delicate marine life.
Build your confidence, save air and save energy.
During your dives you will learn about:
Methods to estimate distance underwater
Natural navigation techniques
Compass navigation while making at least five turns
Underwater navigation patterns
COURSE PRICE & DURATION:
£225 / 3 dives / 1 day course (group course)
PREREQUISITES: 10 years old, (Jnr) Open Water Diver

COURSE CONTENTS: Home Study; Knowledge Development; Open water dives

EQUIPMENT REQUIRED: Mask and Snorkel
Recommended equipment: Underwater slate; Underwater compass

RECOMMENDED TEXTS: Encyclopedia of Recreational Diving

REQUIRED FORMS AND FURTHER INFORMATION: Click Here
Fine tuning your Navigation skills is great, why not team it up learning how to successfully find lost objects, take the PADI Search and Recovery Course to learn these skills.