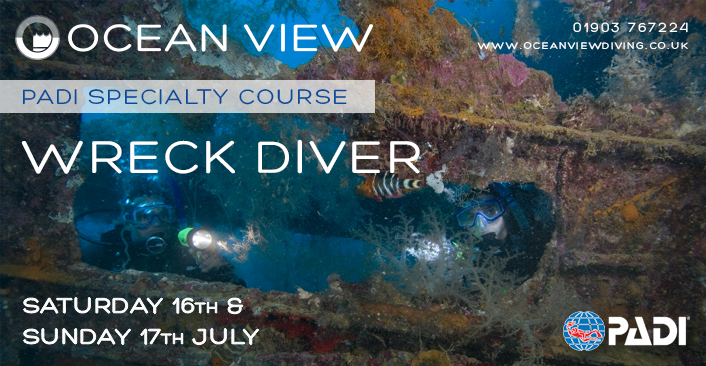 PADI Wreck Diver July 2022
We will be running the PADI Wreck Diver course on Saturday 16th and Sunday 17th July.
Whether sunk on purpose as an artificial reef, wrecks open fascinating windows to the past. Most divers find wrecked ships, aeroplanes and even cars/trucks nearly irresistible. They are intriguing to explore, and usually teeming with aquatic life. The PADI Wreck Diver course teaches you the ins and outs of rewarding, responsible wreck diving.
You will need to do a small amount of home study before the course, this is all done with the digital PADI home study eLearning material. You don't need to come to the shop to get the course arranged and access your digital home study, this part of the course can all be arranged via email, we can do all of this whilst the shop is still closed to the public as per current regulations. The course can be paid for via BACS, we will then send you the code for your home study. But of course it will be great to see you and do the paperwork here at the centre, so pop by if you can.
The water temperature in July is usually around 8 degrees at 30m. For thermal protection, we recommend you are comfortable in a drysuit for this course. We run the Drysuit course every month.
If you want to take both the Wreck and the Deep course, we will need to start the Wreck course at Wraysbury the week before. Students can only participate in 3 training dives a day, both the Wreck and Deep course consist of 4 dives per course, therefore we cannot do all 8 dives over the 2 days we are at Stoney Cove, we need to carry out 2 dives at the earlier date to complete all of the necessary dives.
At the moment, the dive site is requiring booking for entry into the site, we will need to do this ahead of time, book early so that we don't miss out.
Find out more about this course…
PADI Wreck Diver July 2022