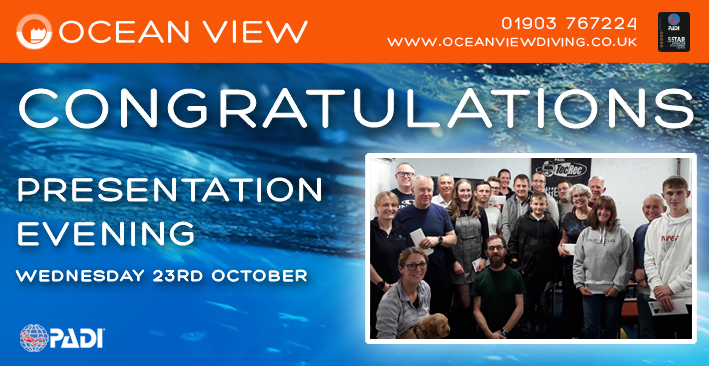 Congratulations to all of our divers who completed their courses: PADI Open Water Diver, PADI Advanced Open Water Diver; PADI Drysuit Diver;  PADI Navigation Diver;  PADI Basic Freediver; PADI D.S.M.B Diver and PADI Master Scuba Diver, who came to receive their certification cards at our Presentation evening this week.
We had a fantastic turn out this week, thank you for all coming, and thank you to our club members for joining us to congratulate our divers!!
Well done to everyone, you all worked hard to achieve your certifications, Congratulations!
There were lots of other divers who have completed courses that sadly couldn't make it this week…. hopefully we will see you next time!
Paul Parsons     PADI Open Water Diver
Bert Van Cleve     PADI Open Water Diver
Saskia Dunkling     PADI Open Water Diver
Tyron Griffiths     PADI Open Water Diver
David Griffiths     PADI Open Water Diver
Sue Elsom     PADI Open Water Diver
Jon Elsom     PADI Open Water Diver
Josh Hickingbotham     PADI Open Water Diver
Richard Hickingbotham     PADI Open Water Diver
Paul Parsons     PADI Drysuit Diver
Bert Van Cleve     PADI Drysuit Diver
Mark Brewster     PADI Drysuit Diver
Matthew Odell    PADI Drysuit Diver
Stuart Main     PADI Drysuit Diver
Annette Hamer     PADI Advanced Diver
Paul Murphy     PADI Advanced Diver
Jen Elfverson    PADI Freediver
Annette Hamer    PADI Underwater Navigation Diver
Matthew Odell    PADI Underwater Navigation Diver
Paul Murphy    PADI Underwater Navigation Diver
Kim Smith    PADI D.S.M.B Diver
Paul Murphy    PADI Master Scuba Diver
CONGRATUALTIONS See you all next time…