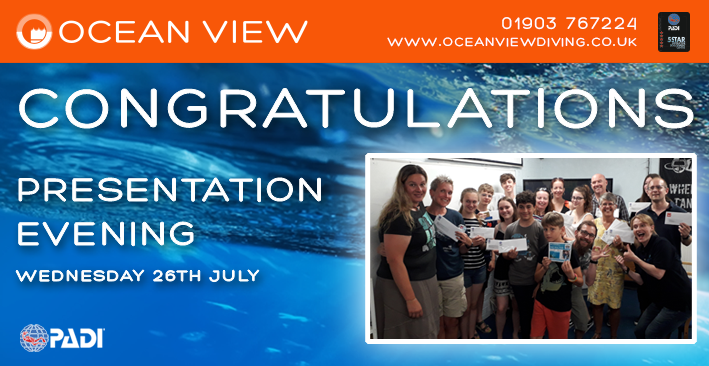 Congratulations to all of our divers who completed their courses: PADI Seal Team; PADI Open Water Diver, PADI Advanced Open Water Diver; PADI Drysuit Diver;  Emergency First Response; PADI Deep Diver; PADI Wreck Diver; PADI Enriched Air Nitrox; TecRec Gas Blender and PADI D.S.M.B Diver, who came to receive their certification cards at our Presentation evening this week.
Well done to everyone, you all worked hard to achieve your certifications, Congratulations!
There were lots of other divers who have completed courses that sadly couldn't make it this week…. hopefully we will see you next time!
Sidney Bell     PADI Seal Team
Beatrice Carter     PADI Jr. Open Water Diver
Felix Carter     PADI Open Water Diver
Pip Wright     PADI Open Water Diver
Adam Prickett     PADI Open Water Diver
Charlotte Fordham     PADI Open Water Diver
Gareth Walsh     Emergency First Response
Ginny Santer     Emergency First Response
Pip Wright     PADI Drysuit Diver
Adam Prickett    PADI Drysuit Diver
Kenny Fleming     PADI Drysuit Diver
Teresa Jones     PADI Advanced Diver
Pip Wright     PADI Advanced Diver
Adam Prickett    PADI Advanced Diver
Kenny Fleming     PADI Advanced Diver
Lynzi Mulford    TecRec Gas Blender
Jen Elfverson    TecRec Gas Blender
Jimmy Sanchez-Reeve     PADI Enriched Air Nitrox Diver
Eleanor Scott     PADI Enriched Air Nitrox Diver
Rachel Scott    PADI D.S.M.B Diver
Ginny Santer    PADI D.S.M.B Diver
Teresa Jones     PADI D.S.M.B Diver
Teresa Jones     PADI Peak Performance Buoyancy
CONGRATUALTIONS See you all next time…