PADI Assistant Instructor
Teaching people to dive allows you to share your passion for the underwater world
As a PADI Assistant Instructor, you not only gain additional experience as a PADI Professional scuba diver, but you also start learning the PADI System of diver education.
You can act as an instructional scuba assistant and assume limited teaching responsibilities. It's a great way to gain experience in order to become a scuba instructor!
The PADI Assistant Instructor course is the first portion of the PADI Instructor Development Course (IDC) and when followed by the Open Water Scuba Instructor course (OWSI) and successful performance at the Instructor Examination (IE), leads to certification as a PADI Open Water Scuba Instructor.
Over four days, you will begin to learn how to be able to organise and present information, conduct skill development sessions and control open water dives. Basically, you become a better public speaker and get really good at demonstrating skills, all the while watching out for student diver safety.
Key topics include:
PADI Standards and Procedures for courses you can teach with in water workshops
Learning, Instruction and the PADI System
Risk Management and Diver Safety
The Business of Diving and your role as an instructor
Marketing Diving and Sales Counseling
COURSE PRICE & DURATION: £600 / 4 day course (does not include crewpack, or PADI fees)

PREREQUISITES: 18 years old; PADI Divemaster; At least 60 logged dives and 100 dives to attend an IE. Emergency First Response Primary and Secondary Care (CPR and First Aid) training within the past 24 months.
A medical statement signed by a physician within the last 12 months

COURSE CONTENTS: Home study; Knowledge development; Theory sessions; Practical Hands on training; Exams

RECOMMENDED TEXTS: Encyclopedia of Recreational Diving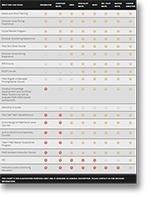 See what you can do as you develop along the PADI career path