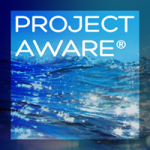 PADI Project Aware®
Anyone who has an interest in the aquatic world should take the PADI Project Aware course
The underwater world needs PADI Project Aware heroes.
You can be one of them by championing the causes of the world's most fragile and important aquatic ecosystems. You'll learn about the vulnerable aquatic environments, what we can do to help during our dives and our everyday lives.
Project AWARE's philosophy is to mobilise a global force of scuba divers and water enthusiasts who care about protecting the world's water resources and choose to make a difference – one dive at a time.
Through classroom discussions, you learn:
How Project AWARE unites scuba divers and water enthusiasts to make a difference
About environmental issues in the ocean commons and coastal zones
About fisheries challenges and sustainability problems
What's happening to coral reefs and reef inhabitants
Your role in protecting aquatic environments
COURSE PRICE & DURATION:

£120 / 1 day course
PREREQUISITES: None

COURSE CONTENTS: Home Study; Knowledge Development; Classroom discussions

EQUIPMENT REQUIRED: None

RECOMMENDED TEXTS: Encyclopedia of Recreational Diving

REQUIRED FORMS AND FURTHER INFORMATION: Click Here
To make sure your new Project Aware knowledge isn't ruined by accidental contact with the underwater world, why not enrol in the PADI Peak Performance Buoyancy course.