PADI Boat Diver
Some of the most amazing dives will begin by jumping in the sea from the back of a boat, whether it's an exciting wreck, or a beautiful coral reef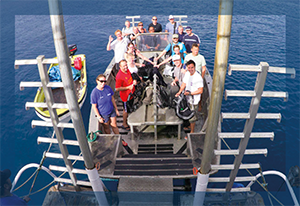 A large proportion of your dives will be accessed by a boat, the PADI Boat Diver Specialty course will equip you with the knowledge of what to expect when diving from boats.
Build your knowledge of boat ettiquette, how to safely kit up on a boat and introduce you to the questions you should be asking when diving from a boat on your holidays.
Diving and boats make an obvious match. Although there are great dive sites available from shore, some of the world's best diving is accessible only from a boat.
Moments after giant striding from the back of the boat, you and your buddy descend to the dive site, eyes wide open in anticipation of the aquatic marine life you'll see.
During the course you will learn:
Boat terminology
Boat diving procedures and etiquette, including how to enter and exit, and where to stow your gear
Boating safety, including how to locate safety equipment
COURSE PRICE & DURATION:

£175 / 1 day course (boat fees not included)
PREREQUISITES: 10 years old, (Jnr) Open Water Diver

COURSE CONTENTS: Home Study; Knowledge Development; Open water dives

EQUIPMENT REQUIRED: Mask and Snorkel; Surface signalling device

REQUIRED FORMS AND FURTHER INFORMATION: Click Here