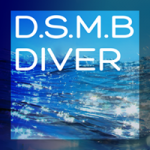 PADI D.S.M.B (Delayed Surface Marker Buoy) Diver
Surface Marker Buoys are an important part of your safety equipment. Be seen!

Be safe! Be seen.
Surface marker Buoys should be an integral part of your scuba dive gear. They are an important piece of safety equipment, every diver should really own one.
The purpose of the DSMB Diver specialty course is to give you the knowledge and skills to safely deploy your DSMB/SMB, to know when and where to use it, and to give you a chance to practice these skills in a safe environment rather than on your first boat dive, which could cause problems.
Surface Marker Buoys serve a range of purposes. They are used to:​
Allow shore cover / boat support to see an ascending diver​
Allow boat crew to keep track of buddy teams on a drift dive
Alert boat traffic to the presence of a diver​
Provide a visual reference and line

 

for ascending divers
You will learn about different sorts of marker buoys, when they are useful and how to carry them, you will also learn about the different types of reels available to you to enable you to deploy your DSMB/SMB.
During the pool orientation you will get to practice deploying your SMB in a safe environment, to prepare you for the skills required for the two Open Water qualifying dives where you will practice bottom and mid-water deployments, safely towing the DSMB during your dive, and finally safely ascending with it.
COURSE PRICE & DURATION:

£195 / 1.5 day course (group course)
PREREQUISITES: 12 years of Age; PADI (Jr) Open Water Diver

COURSE CONTENTS: Knowledge Development; Pool Orientation; Open water dives

EQUIPMENT REQUIRED: Mask and Snorkel

RECOMMENDED TEXTS: Encyclopedia of Recreational Diving

REQUIRED FORMS AND FURTHER INFORMATION: Click Here