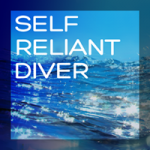 Take care of yourself
Although most scuba dives are made with a buddy, an experienced diver may want or need to make dives without a partner
The purpose of the Self-Reliant Diver specialty course is to recognize and accept the role of the buddy system and its contributions to diver safety while identifying and developing self-reliance and independence while diving.
You will develop your skills of planning and carrying out dives without a partner when preferred or necessary, sharpening skills of diving self-reliance, making the diver a stronger partner in a dive pair or team.
This course covers when diving alone may be applicable, and the need to compensate for those situations, including dive planning, life support system readiness, adaptive training, equipment and responsibility.
This course is an introduction to self-reliant diving that helps you develop the skills, knowledge and techniques necessary to rely on yourself first, whether or not you are diving with a partner.
During the course you will learn:
The value and application of the buddy system
The philosophy of, and motivation for, diving without a partner
Potential risks of diving alone, and how to manage those risks
The value of equipment redundancy and what back-up equipment is needed
Dive planning and gas management
COURSE PRICE & DURATION: £225, 1 day course, with a 2 hour classroom session prior to lake dives

PREREQUISITES: 18 years of Age; Minimum of 100 logged dives; PADI Advanced Open Water Diver or equivalent qualifying certification from another training organization

COURSE CONTENTS: Knowledge development; Open Water dives

EQUIPMENT REQUIRED: Mask and Snorkel,

EQUIPMENT RECOMMENDED: DSMB and Reel, cutting tool(s), spare mask, slate with pencil

REQUIRED FORMS AND FURTHER INFORMATION: Click Here