"Challenging" "rewarding" PADI Rescue Diver
Learn how to turn yourself into the best buddy, The PADI Rescue Diver course teaches you to increase your safety, recognise problems before they occur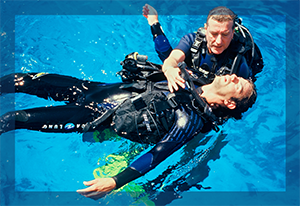 Most divers cite this to be the best course they took. Whilst serious and testing, you will learn so much to improve your dive skills, and learn to look out for your fellow dive buddies.
We don't like to think about it but accidents happen. Rescue training expands your knowledge of diving, increases your dive skills, and makes you more aware of what's happening around you. The course helps you recognize and respond to potential diving emergencies in the unlikely event that they should occur, helping you prevent problems before they happen. A pre-requisite for the PADI Rescue course is a first aid certification, the EFR® Emergency First Response course is just the ticket.
During the course you will learn:
Self and Buddy rescue
Recognizing & managing stress in other divers
Emergency management and equipment
Assisting and rescuing panicked divers
Rescuing unresponsive divers
Rescue Diver certification is also an important prerequisite for the PADI Divemaster rating and the distinguished PADI Master Scuba Diver certification.
COURSE PRICE & DURATION:

£395 / 2 day course (group course)
COMBINED COURSE PRICES
Rescue and EFR Combined: £495 / 3 day course, EFR Day 1 (group course)
Rescue, EFR and O2 Provider Combined: £550/ 4 day course, EFR Day 1 (group course)
PREREQUISITES: (Jnr) Adventure Divers who are 12 years old and have completed the Underwater Navigation Adventure Dive may enrol in a Rescue Diver course. EFR® Primary and Secondary Care training within 24 months. EFR Training may be completed along with rescue diver course.

COURSE CONTENTS: Home study; Knowledge development; Confined water dives; Exam; Open Water dives

EQUIPMENT REQUIRED: Mask and Snorkel, pocket mask, accident management slate.

REQUIRED FORMS AND FURTHER INFORMATION: Click Here