Elite SEALS Wanted!
Do you think that you've got what it takes to become a member of PADI's most elite team?
At Ocean View we turn 8-11 year old novice water babies, into highly trained underwater Aquanauts. The PADI Seal Team course is great to do with either your friends or a fantastic way to make some new ones.
PADI Seal Team is a pool-only experience, conducted by certified, trained PADI Professionals, these adventures teach our young explorers excellent skills and sets some fun and unique underwater challenges.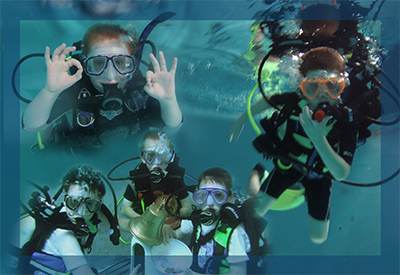 The PADI Seal Team is for young divers who are looking for action-packed fun in a pool by doing exciting AquaMissions. It's a fun activity for both boys and girls aged 8 and above. It helps children learn responsibility and a respect towards the aquatic environment.
AquaMissions 1–5 cover basic scuba diving skills, such as breathing underwater, clearing a mask of water, recovering a regulator and swimming around experiencing the sensation of being weightless. Each session lasts about an hour. Complete these initial 5 AquaMissions and become a recognized PADI Seal Team Member.
Seal Team Sundays
The course is run once a month, usually the 3rd weekend of the month.
From April 2023, it will be on the Sunday of these weekends.
Once your young explorer has completed their PADI Seal Team course, they could move onto the Master Seal Team course, or if they are over 10 years old, they could move onto the PADI Open Water course.
COURSE PRICE & DURATION: £40 per Aquamission (pay per session) or £180 for 5 Aquamissions, (pay all up front to get 10% off)
£55 Seal Team Crewpack (incl. Certification).
Each Aquamission lasts approx. 1 hour.

PREREQUISITES: 8 years of age

COURSE CONTENTS: Home Study Knowledge Development, Knowledge Review with your PADI Instructor, Aquamission(s) in our on-site heated pool, Signed logbook

EQUIPMENT REQUIRED: Just swimwear, a towel and a t-shirt to wear in the pool

RECOMMENDED READING: Your Seal Team Manual and DVD

REQUIRED FORMS AND FURTHER INFORMATION: Click Here
---
Childrens Parties
Why not treat your young scuba diver to a party to remember! We can offer the opportunity to have a Bubblemaker party under the close supervision of our Instructors and Divemasters. The pool is also available for hire for children's swimming and pool parties. We can provide staff supervision if required. We also have a club room upstairs where food and drink can be consumed after the children have finished playing in the pool.