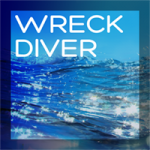 PADI Wreck Diver
As you slowly descend into the blue, the dark shape appears below you, as you go a bit deeper the shape of the wreck beneath you starts to appear before your eyes…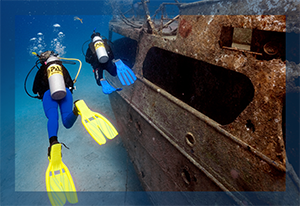 Diving on a piece of history is a lure to many divers. Wrecks provide a challenge, a mystery, and are usually teeming with aquatic life.
Whether sunk on purpose as an artificial reef or the result of mishap, wrecks open fascinating windows to the past. Most divers find wrecked ships, airplanes and even automobiles nearly irresistible because they're intriguing to explore, exciting avenues of discovery, and usually teeming with aquatic life. The PADI Wreck Diver course teaches you the ins and outs of rewarding, responsible wreck diving.
Due to their background, how they were sunk, and who was on board when they went down, some wrecks demand the utmost respect, knowing the history of a wreck you are diving on is as important as the aqualtic life and intrigue they offer to us.
Wreck dives require you to observe responsible practices to safely explore. Learn about the various types of wrecks, utilise your buoyancy control to protect the wreck and its aquatic life
During your dives you will learn about:
Safety considerations whilst navigating wrecks
Surveying and mapping a wreck
Using lines & reels to guide wreck penetration
Finning techniques to avoid kicking up silt or disturbing the wreck and its inhabitants
COURSE PRICE & DURATION: £250 / 4 dives / 2 day course

PREREQUISITES: 15 years; PADI Adventure Diver

COURSE CONTENTS: Home Study; Knowledge Development; Open water dives

EQUIPMENT REQUIRED: Mask and Snorkel
EQUIPMENT RECOMMENDED: Dive light; Reel & Line; Underwater Slate; Underwater Compass

RECOMMENDED TEXTS: Encyclopedia of Recreational Diving

REQUIRED FORMS AND FURTHER INFORMATION: Click Here