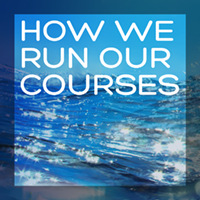 PADI Open Water Diver – how we run our course
The Open Water course is broken into three main sections
Knowledge Development  |  Confined Water Dives  |  Open Water Dives
The details below will give you a really good idea of how we run our course.
This will help you to get the most from your time with us, to make your course as easy as possible.
EQUIPMENT REQUIRED
WHAT WE PROVIDE
Most of the equipment you need for the course is supplied within your course fees. We supply the B.C.D, the regulators, the wetsuit / drysuit dependant on whether you are doing your Drysuit Specialty at the same time as your open water course, the cylinders, the weights, the computer and compass.
WHAT YOU PROVIDE
The only items you will need to buy before your course are a Mask and Snorkel and a Log Book. The mask because correct fit and comfort are very important, you will need your log book in order to have a record of your training, and to log your dives with us on your course, it then serves as an invaluable tool to keep track of your recreational dives. A lot of dive centres around the world want to see your log book as proof of your experience.
KNOWLEDGE DEVELOPMENT

HOME STUDY
Once you sign up to our Open Water course, you will receive an email from us with instructions on how to download and access your digital training materials. Use the step-by-step pdf that is downloadable from the email we have sent you on how to access your learning materials, you will only need to have internet access to initially sign up and download the software, then to submit your test results, other than these few times, you can work offline.
Read through the Introduction, this gives you a grounding in what you are learning, what to expect from the eLearning materials and from the course in general.
Make your way through the five sections at your own pace, keep scrolling down through the sections for all of the information, complete the quick quizzes as you go (these are the ones with answers), and watch the videos that pop-up as you go.
At the end of each 5 sections there is a Knowledge Review, these are multiple choice tests to ensure you are learning as you go, there may be more than one answer for the knowledge review questions, submit the results, once you have done this you will receive an email to confirm.
Take The Quiz at the end of each of the first four sections, these are multiple choice, there is only one answer for these questions, submit the results of the quizzes as you complete them..
The fifth section of your eLearning has a FINAL EXAM, again submit the results of the exam to receive your confirmation email.
Complete all of these before you come to us and print out your summary result page. Please remember we are here at the end of the phone, on email, or in the shop to answer questions and to help.
CLASSROOM
During the morning of your first day with us here at the centre, we will go over some of the training material, please write down any questions you have about the eLearning if you are unsure of anything. 
We will take you through a short Quick Quiz with us in the classroom to make sure everything is clear.
CONFINED WATER DIVES
POOL

During the afternoon of the first day we get you in the pool to introduce you to some basic diving skills, the confined water dive sessions are split into five sections, however we run these together over the weekend. 
During day two in the pool we build on the basic skills you have already learnt, gradually introducing more complex skills as we go, allowing you to master the in water skills you need as a diver.
Having our own indoor pool heated to 32º allows you to learn these skills in comfort, and in a friendly environment. We run these pool days from 9am-5pm, however if we need to stay over a little at the end of each day, we will do this to ensure that you are comfortable, safe and ready to proceed to the next stage.
During this first half of the course, you will also be given a basic water fitness assessment, which will consist of a 200 metre swim and a ten minute treading water exercise. If you feel you may have difficulties with this section please speak to us before the course begins.
OPEN WATER DIVES
OVERVIEW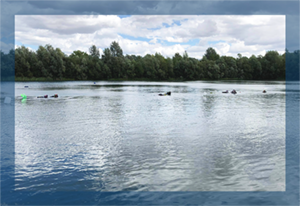 You will make four dives with an instructor where you will apply and demonstrate the skills you have learned in the class and pool.
In the UK these will usually be done at a lake in Surrey. We start each day at 9am on-site, and finish when all of the students have completed the required skills. 
We use an inland site as the UK coastal weather can sometimes be against us. It will be a fresh water diver training site, ensuring that you will you be able to complete your certification dives in total safety, and within the agreed schedule. 
TRANSPORTATION
You are responsible for getting yourself to the dive site, we cannot offer transportation to anyone. We will provide details of the site, with map links and directions from Sussex.
EQUIPMENT
We like to encourage divers to be responsible for their own equipment, therefore we will hand over all the dive kit you will need for your qualifying dives with us. At this point, you are now responsible for this equipment, as you would be if you bought your own dive kit, or rented it. We will arrange with you to pick this up a day or two before the weekend at the dive site.